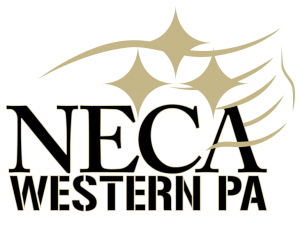 The Western Pennsylvania Electrical JATC is partnered with the Western Pennsylvania chapter of the National Electrical Contractors Association (NECA), to make sure that our Electrical apprentices are receiving the best on-the-job training from the most experienced industry professionals.
The Western Pennsylvania chapter of NECA serves as a collective voice for member contractors and electrical workers that they employ from the region of greater Pittsburgh, Erie and Beaver, Pennsylvania.
NECA is an organization that advocates for better business practices amongst electrical contractors. From research to recruiting and training, NECA is there to help electrical contractors meet industry standards and to be an advocate for their workforce.
The Western Pennsylvania chapter of NECA continues to achieve its goal of helping member contractors be the best that they can and continue to achieve goals. Through training sessions for contractors, government affairs and much more, the Western Pennsylvania Chapter of NECA has been an advocate for electrical contractors and the opportunities that they offer apprentice electrical workers.
NECA is instrumental in helping apprentices receive the proper on-the-job training that is promised when they apply for the apprenticeship program. NECA contractors are trusted to employ highly skilled electrical workers that are capable of training apprentices proper techniques and safety practices in the field.
The national organization of NECA is committed to helping individual contractors better understand the bidding process, staffing and recruitment process, project management processes and other managerial processes.